I'm using an item recovered during the cleaning out of the sunroom to tinker with the logistics of my writing process. Specifically, I'm using an old green binder as a central storage location for my longhand rough drafts. I was using legal pads for this purpose, but this approach had drawbacks. I would end up with parts of a project scattered around the house before I got around to typing it into the computer, and with parts of different projects on the same pad. This wasn't very efficient or organized. So I bought a bunch of divider tabs and loose-leaf paper so I can keep every page of an individual project together and hopefully start getting some stuff knocked out.

Having decided on this organizational scheme, I also decided to try to get back to writing at least a little bit every day. I started out with this vague concept for a new story based on some weird thoughts inspired by quantum mechanics (Einstein biographies have that effect on me). I've managed to get a little over 300 words starting with virtually no idea what I'm doing. I much prefer this approach to my usual routine of analyzing my idea to death and determining it to be unworkable before I even set a single word to paper.
I haven't commented anywhere on LeBron James' decision about where to play next year (except to register my correct guess on Facebook the day before). A lot has been written, pro and con, since then. A lot of it has been hilariously ill-informed (sports columnists are often worse than political pundits). For example, there's
this gem
from
Sports Illustrated'
s Michael Rosenberg. Suddenly it's an incredible betrayal to want to play with your friends and win championships, and Michael Jordan's career decisions bind every other free agent until the end of time. In case you can't tell, I have no problem with James' decision to sign with Miami. I do have a problem with the primetime special used for something that should have been a press release or, in this day and age, a tweet on Twitter. It's possible that "The Decision" was ESPN's idea, and that James only went along with it for the charity money, but there's no definitive evidence that this was the case.
The thing that actually prompted me to write about this whole situation is the news I just saw on the ESPN screen crawl. Apparently, Zydrunas Ilgauskas is signing with Miami now. Z has been with the Cavs forever and is the only current Cavs player who predates the LeBron James era. Because of his longevity, and his pre-LeBron years as the best player on a string of mediocre Cavs teams, he's beloved by Cavs fans. This signing is probably not going to improve Dan Gilbert's mood.
So now the question is, how much is Miami going to raid the Cavs' roster? After all, Miami's still got about 4 roster spots to fill just to get to the minimum of 10, and the Cavs have a lot of relatively cheap talent. Is Anderson Varejao next? Well, okay, that's not likely because Miami's front court is pretty crowded at the moment. But what about one of the young three-point shooters, like Jamario Moon? I can see this getting ugly pretty quickly. Last year, I figured that the Cavs had about a 4th-5th seed playoff team without James, just because of the number of talented players they signed before and during the season. But this off-season, the East looks to be getting stronger, and if the Cavs lose too many players off their roster, their place in the pecking order could suffer even farther. To the extent that LeBron James talks Cavs players into coming down to Miami with him, the hatred in Cleveland could only get worse.
Actually, this would be the second bug I've found in WSU's website over the years. Imagine if I went into every college and department's pages looking for errors instead of just visiting the places I have to.
Anyway, I've found that when using Google Chrome (at least the Linux beta; I don't know if the Mac beta or the mature Windows version has this problem), you can't log into
Wings
, the university web portal. If you try to log in, the login screen reloads rather than taking you to the Wings home page. I suspect this is because WSU still lives in the dark ages of IE vs. Netscape, when websites constantly told you that they were optimized for one or the other. In fact, Wings specifies that it only "supports" the latest versions of IE, Firefox, and Safari, and used to routinely give you "wrong browser" error messages if you tried to log in with anything else. Of course, since Chrome uses the same rendering engine as Safari and a couple of other browsers use the same one as Firefox, these kinds of policies are misguided.
Fortunately, whether the bug is the result of user-agent discrimination or something else entirely, I've found a solution. If you click the "Alternate login for screenreaders" link at the bottom of the login box, you will be able to log in successfully on a screen that looks exactly like the regular login screen. Apparently, a feature originally introduced to guarantee access to the disabled also benefits users of alternate browsers and OS's. Who knew?
I'd wanted to do a fresh install on the Linux part of my hard drive for a while now. One reason I wanted to do this is because I had 20 GB of a previous Ubuntu version sitting around (used to make sure I would have access to all my data after a previous fresh install. I wanted to recover that space by expanding the partition that had my current Ubuntu install on it. I could only do that using a LiveDVD in my disc drive, since GPartEd (the GNOME partition editor) can't (for obvious reasons) change the partition you're running it from. However, the partition editor decided to be stubborn and insist that it couldn't read the details of my Linux partition and thus couldn't do squat to it. That included resizing or reformatting any part of it. Since all my really important documents had backup copies on disc, in my dropbox, or on WSU's computer network, I decided I was perfectly okay with finding some function that would just nuke that pesky partition.

So I stumbled on the Create New Partition function, and it seemed to fill the bill. What I didn't realize was that it would nuke my entire hard drive rather than just my Linux partition. Fortunately, since all my important stuff was backed up, having Windows wiped off my hard drive isn't that big a deal. I hated Vista anyway and was planning to upgrade to Windows 7. The only inconvenience is that now I'll have to get the full OS instead of just the Home Premium upgrade. I probably won't worry about it until after Christmas, though. It's actually pretty liberating to have my whole computer be 100% Linux. Besides, I'm not looking forward to the idea of having a Windows installer pave over my whole hard drive and having to reinstall Linux Mint or Ubuntu to create a dual-boot.

But since I do all my leisure computer use at home and my personal writing projects on Linux and only even boot up Windows for school, I won't even notice the absence of Windows on my system for the month plus left until Winter Quarter starts.
This is the last thing I ever thought I'd blog about, but it was kind of thrust upon me. When I walked into my Mom's house for Thanksgiving, halftime of the Detroit Lions-Green Bay Packers game was on the TV. Apparently, the theme of the show was "The Future of Motown Salutes the History of Motown." Basically, that means legendary music performed, not by the original legendary performers, but by people you've never heard of. I think the best part of the show was the Nation of Islam dancers.*
My uncle Bruce and I ended up riffing on the question of whether Motown even has a future. We were racking our brains trying to figure out the last hit song released by the label. I remembered
"Night Shift"
by the post-Lionel Richie Commodores. Then Bruce wondered whether Lionel Richie had stayed with Motown for his solo career. It turns out, according to
Richie's Wikipedia page
, that he did stay with Motown until 1986. That pushes their last known hit one year later, to his single
"Dancing on the Ceiling."
So, not only was Motown's last hit single incredibly cheesy, but they're a couple years away from having been a third-tier label longer than they were a driving force in the music industry. They've gone downhill almost as fast as the city of Detroit.
That uninspired debacle of a show meant that the Dallas Cowboys-Oakland Raiders game won the halftime entertainment contest by default. With American Idol "rocker" Chris Daughtry performing a bunch of his lamer ballads. All this leaves me looking forward to the Super Bowl halftime show with the surviving members of The Who.
*No, the dancers were not really affiliated with the Nation of Islam AFAIK. That's just a cheap joke about the black suits they were wearing.
I upgraded last night, so I haven't had a chance to check everything out yet, but I've already noticed many things to rave about and a couple of annoyances. First, the good stuff:
Better Default Theme. The new version of Human is the best yet. In previous versions, the default theme was usable but just bland enough to make me want to look online for something better. This version of Human, though, is a vast improvement. The window title bar is narrower, saving a little space at the top of windows. Also, Humanity is now the default icon set, complete with dropshadows.
Better Wallpapers. Instead of the bland, brown abstract designs of earlier versions, Karmic Koala comes with some actual nature image and still-life wallpapers for a more interesting desktop. Since I was using a different theme with a different wallpaper when I upgraded, I have no idea what the default is, but this one is a good candidate and still much better than any previous one.
Better Software Manager. The new Ubuntu Software Center is much better than the old Add/Remove Hardware dialog. A column on the left side of the window allows you to toggle between displaying installed applications and a list of all programs available from the Ubuntu repositories (an option in the View menu allows you to choose between displaying all applications or only those maintained by Canonical). Clicking on a category in the "Get Free Software" screen gives you a list of applications of a certain broad type (e.g., Office or Internet). From there, double clicking an application's name takes you to a description of the program with an option to download and install. You can also click once to select the program from the list,then click on an arrow to the right to go to the description. In the screenshots below, I get some information about Scribus, the open-source desktop publishing program.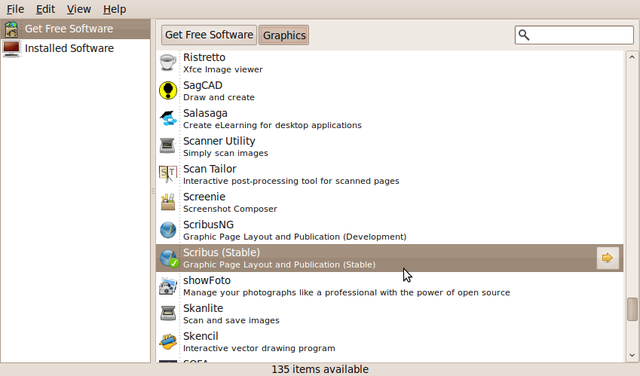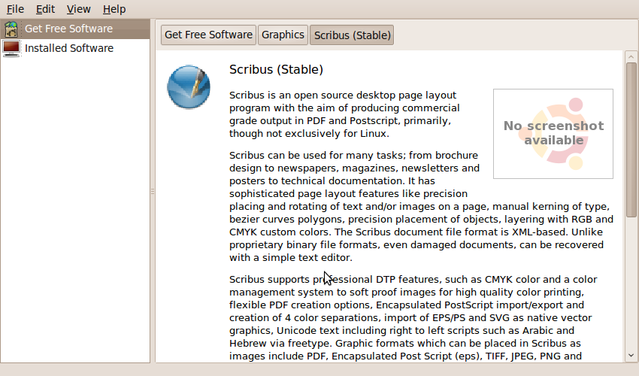 More Compact Logout/Status Menu. Though this one can take some getting used to, it does save space and clutter. Basically, instead of displaying the complete list of possible Pidgin (or Empathy, see below) statuses, the menu under your user name in the upper right corner contains a "Set Status" item which gives you a submenu of possible statuses when you point to it.
And now, some downsides:
Different Default IM Client. Since I merely upgraded, I didn't have to worry about this one. However, if you do a clean install, you will have Empathy, the native GNOME IM client, as your default messaging application. If you really want Pidgin, you'll have to download it from the repositories.
Annoying System Sounds. It looks like KK insists, by default, on playing the login screen sound effect every time a dialog box comes up, specifically the Close Tabs dialog in Firefox. This is only a minor annoyance, but I still wish I could find a way to turn it off.
Inability to Delete Themes. This is kind of annoying, since I really wanted to prune the rejects from the collection of desktop themes I'd tried out over my time with Jaunty. However, the Delete button stays grayed out even if I select a theme in the Appearance Preferences dialog.
Overall, though, the positives of the new Ubuntu outweigh the negatives, and I'm not considering downgrading at all.
Suvudu
has posted several links to
several links to reviews
of
The Gathering Storm
, the upcoming twelfth book in the
Wheel of Time
series. Of course, this book is subject to both anticipation and trepidation, as it's the first in the series not to be written entirely by the late Robert Jordan. It's also the first of three installments of what was originally supposed to be one 2,000-page concluding volume for the seemingly endless saga. Perusing some of those reviews (largely skipping the ones from WoT fansites and Tor books), I'm cautiously optimistic. Though these reviews are written largely by blogger fans of WoT who were
bribed
furnished with advance copies, The common trends in the reviews make me cautiously optimistic about this one.
According to the reviewers, there seems to be more of an emphasis on a couple of things that Jordan had neglected in the last few books of the series, most notably character development and the treatment of certain themes.
Apparently, Brandon Sanderson, the author picked to finish Jordan's manuscript fragment, spends more time with the characters' internal monologue. This is a good thing, particularly in the case of main series protagonist Rand al'Thor. While Jordan has left occasional clues to the psychic and physical torments Rand lives with, it's been too little and too far between to keep the Dragon Reborn from coming off as a jerk, if not a sociopath, based on his actions. A more nuanced, sympathetic Rand would be key to continuing the redemption of this series that began with the last book,
Knife of Dreams
. A few more reflective moments couldn't hurt a great many of the female protagonists, either. While the portrayals of women in the earlier books were more nuanced (especially that of the Aes Sedai Moiraine, who disappeared at the end of Book 5), the more recent books have led some people to question whether Jordan is a sexist or misogynist.
If the reviews are to be believed, that latter charge may be remedied by a return to the more nuanced take on gender issues from earlier in the series. For example, a couple of the reviewers claim that
The Gathering Storm
emphasizes a contrast between how Rand and Egwene al'Vere, his childhood sweetheart and current insurgent would-be leader of the Aes Sedai, handle their travails. This would reinforce a theme developed from Books 1-5, the idea that men and women gain and use power in different ways, as reflected by the differences between the magical energies which male and female channellers use to work magic. A return to this idea that neither sex is good or bad, just different, would be a welcome change from several books of male and female characters going on about the supposed deficiencies of the opposite sex.
Anyway, these are my hopes for the new WoT book, based on advanced
hype
word. I ordered
The Gathering Storm
from the Science Fiction Book Club, and it's supposed to get here by the middle of next month. Hopefully, the actual product will measure up and make me a satisfied customer.
So I've decided to restart the actual blogging with something iight and superficial: a desktop theme screenshot. A few days ago, I found
this collection of goodies
for the GNOME desktop. The author calls it a "GTK theme/style," even though it's not really a theme package. It's really just a collection of wallpapers, GnoMenu panels, and a login screen theme "inspired in HP computers." Since my computer's an HP, I decided to give one of these wallpapers a shot. It turns out, the blue wallpaper goes pretty well with the blue-and-gray Nimbus themes:
Of course, I wonder how long these goodies are going to stay up on the Internet. This guy's open to trademark infringement claims, since he used the HP logo (obscured by Pidgin in my screenshot) on pretty much all of his wallpapers.
It's been almost two years since I last posted to this blog. That made it really interesting to look over the old entries (including a friends-only entry that I decided to make private), as that was a time of great flux in my life. It was revealing to revisit some of those emotions again, as the flux of that time was deliberately reflected in the major writing project I was working on.
Anyway, in the interim, I've been going back to grad school and making halting, intermittent progress on my tech writing certificate. I also completed a rough draft of the novella formerly known as "Holy Fire" (and which I will someday give a new working title). I also discovered Ubuntu Linux, which I now use as my OS for pretty much all personal (as in just for me) computer use and briefly blogged on WordPress about my LInux use.
However, I've realized that I can't really do a single-issue blog because I'm not a single-issue person. I care about a whole lot of things (when the incredibly wise but apathetic side of my personality doesn't assert itself) in equal measure. Many of these things are even tangentially related in my mind. So I decided to revive, retitle, and repurpose this blog.
While my old LiveJournal was almost entirely about my creative writing and issues related to writing, publishing, copyright, and censorship, this new one will include all my interests. There will be entries about technical writing, various kinds of computer software, and screenshots of my GNOME desktop themes, in addition to all the previous subject matter. There will probably also be aimless ramblings about life, the universe, and everything.
To reflect the newer, broader subject matter, I changed the blog's title. While "The Writing Writer" was an accurate reflection of the old blog's focus and also the title of an awesome
Coheed and Cambria
song, it wasn't appropriate for the new direction. On the spur of the moment, I picked "Carrying the Fire" as the new title. I happened to finish reading
Cormac McCarthy's The Road
last night, and that phrase has a particular resonance in that book. Since my long-neglected novella has so many associations with the symbolism of fire, that title seemed especially appropriate.
I'm reading Stephen Erikson's The Bonehunters, a nice 1,000-page fantasy novel, the latest in a series of Tolstoy-sized fantasy novels in the tradition of The Wheel of Time. The important thing, as far as this entry is concerned, is one of the quotes at the beginning of a chapter. There's a long tradition in SF of using quotes from made-up books from the novel's setting to introduce chapters. It goes all the way back to Frank Herbert's Dune, strangely enough a work of science fiction rather than fantasy.

Anyway, this particular quote is at the beginning of Chapter 20 of The Bonehunters (p. 771 of the Science Fiction Book Club edition). It strikes me as incredibly relevant to modern geopolitics and better written than a lot of real-life philosophy books. In fact, I want to try to distill some simple version of it for a message-board and/or e-mail sig. But the whole thing is so awesome I want to share it somewhere. Without further ado, here it is:
Discipline is the greatest weapon against the self-righteous. We must measure the virtue of our own controlled response when answering the atrocities of fanatics; for the self-righteous breed wherever tradition holds, and most often when there exists the perception that tradition is under assault. Fanatics can be created as easily in an envrionment of moral decay (whether real or imagined) as in an environment of legitimate inequity or under the banner of a common cause.

Discipline is as much facing the enemy within as the enemy before you; for without critical judgement, the weapon you wield delivers--and let us not be coy here--naught but murder.

And its first victim is the moral probity of your cause

(Words to the Adherents)

Mortal Sword Brukhalian

The Grey Swords